Located in the north of the Belgian province of Luxembourg, just a stone's throw from the Grand Duchy, the 23 villages and hamlets of the Municipality of Gouvy will welcome you in a green setting of forests and pristine rivers.
We want to keep an intact nature…
For the lovers of the nature, Gouvy is one of the richest communes of the country in natural reserves because of the 11 reserves of the R.N.O.B. (Réserves Naturelles et Ornithologiques de Belgique) covering a total area of 40 hectares. Nowadays, if the affection and the confidence of the people of the Ardennes are difficult to conquer, they are big-hearted, proud of the past, nature fanatic…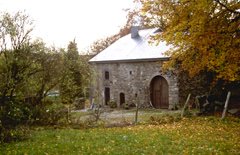 Having the advantage of being situated in a beautiful nature without pollution, the commune of Gouvy offers an exceptional landscape to the inhabitants and visitors. This is a region where you can find wooded hills, large valleys, little and welcoming villages…
In our immense spaces, the tourist is not considered as a product to exploit but as a person and the inhabitants like to speak with them.
Today, the Ardennes are no longer cut of this hectic world. The rhythm of life is different and if the people have now a lot of evidence of their past, our little villages could have combined the pleasures of a healthy, simple and quiet life.